Exercise 113: Create an Information Item containing a Link to the QPR Community Web Site.
1. Open the

Dentorex Group Scorecard

model.
2. Open the Scorecard Navigator view, and on the

View tab

of the ribbon,

click the

Show Information Items

button.
3.

Right-click on the Dentorex Group top element, and select

Create New… > Information item

from the pop-up menu:

4. The Information Item(s) window opens. Click

New

.
5. The New Information Item window opens. Type

QPR Community

in the

Name

field and

https://community.qpr.com in the

Location

field: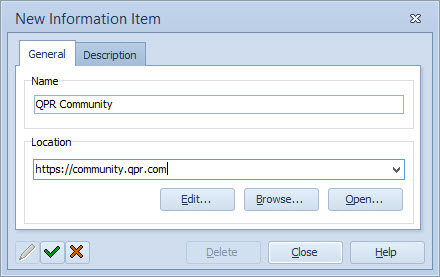 6.

Accept the changes by clicking the

Accept changes

button.
7.

Close the Information Item windows by clicking

Close

.
See the Information Items Window topic in QPR Metrics - User's Guide for more information.