After the simulation has been carried through, and the simulation data is saved in cases, the data can be analyzed further in the Analysis View.
First, we have to open the Analysis view and format the spreadsheet for the simulation data.
Second, select the cases and measures we want to study.

Exercise 91: Format the spreadsheet, and import the processing time values into the spreadsheet.
Note that you need to have run a simulation before doing this exercise.
1. On the

View tab

of the ribbon, click the

Analysis View

button to open the Analysis View.
2. On the

Analysis tab

of the ribbon, s

elect the measure

Processing Time

from the

Measure

drop-down list:

3. Cases can be removed from the spreadsheet, for example if they are rejected in some phase. To remove the cases from the spreadsheet, by click the

Arrange Rows

button. The Select Rows for Analysis Sheet dialog will open.
4. In the dialog, select some cases and and click the

<

button in order to remove them from the spreadsheet: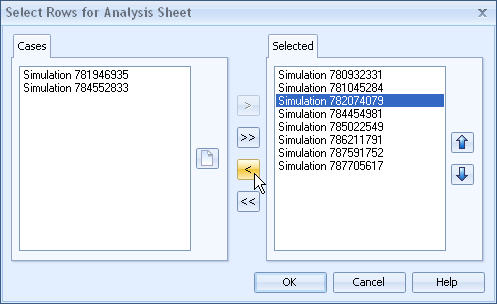 5. Click

OK

.
In the same manner, the columns may be selected with the
Arrange Columns button.
For more information, see the Analysis View subtopics in QPR Modeling Client - User's Guide.