Whenever a QPR BizArchitecture Server connection is opened, you need to provide your login name and password into the corresponding fields. Click OK to establish the connection. In the case Windows NT authentication is used, the domain that is set as default is used as a default option.
If other domains are allowed to be selected, there is a drop-down box containing all the possible domains at the bottom of the dialog.
Note that in the case single sign-on has been enabled, you may not have to perform a separate login, but your Windows login information is used instead. For more details about single sign-on, refer to QPR Administrator's Guide.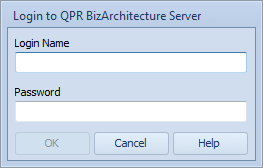 Login to QPR BizArchitecture Server dialog