In addition to creating replica elements, replica models can be created from remote models.

Exercise 138: Create a Replica Model from a Remote Model.
Note, that you need to have a QPR Metrics Server running on a remote machine in order to do this exercise.
1. Create a new model using the

Balanced Scorecard Template

.
2. On the

View tab

of the ribbon, click the

Integration View

button.
3. The Integration View window opens. From the

Views

group, select

Remote model imports

, and click

New

in the

Commands

group: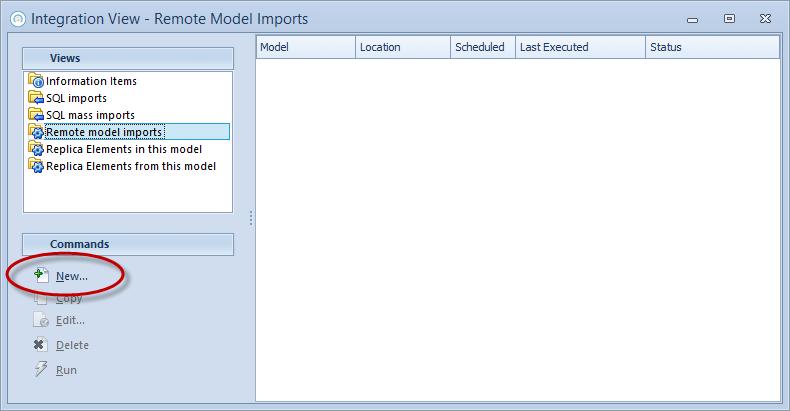 4. The Remote Model Import window opens. Enter the

IP

or

hostname

of the remote server to the

Server location

field. If the remote server does not use the default port, then

deselect

the

Use default port

check box. Click

Connect

to connect to the remote server: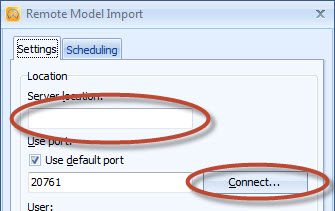 5. The QPR Metrics Login window opens. Enter the

User name

and

Password

(for example,

qpr

and

demo

) and click

OK

:
6. Click the

Select Model

button: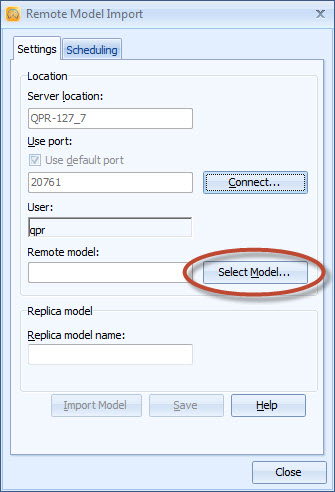 7. The Select Remote Model window opens. Select a model and click

Select

: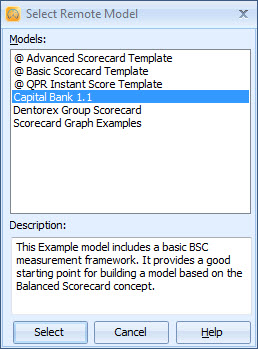 8. Type in a name in the

Replica model name

field: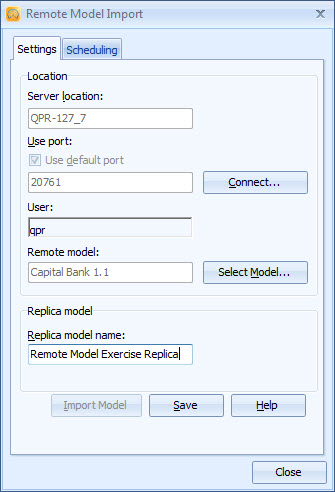 9. Click

Save

to save the Remote Import Model settings.
10. Click the

Import Model

button to begin importing the model from the remote server. After the import is completed, a window will appear stating whether the import was succesful or not.
For more information, see the Importing Models from Another Server topic in QPR Metrics - User's Guide.