In this dialog you can select model elements for many to one/many type of relations. The list to the left shows the elements of the type defined for the relation and the list to the right shows the currently selected elements. Below both the lists, the name, the description, and the diagram path for the selected model element are displayed in their own scrollable field.
It is possible to filter the view by element name by typing in text to the field on the top part of the dialog and pressing Enter or clicking the Search button. In addition, the list of available elements can be filtered according to their element type by selecting the element type from the drop-down menu.
You can move the model elements between the lists with the buttons between the lists:

Select

Select all

Deselect

Deselect all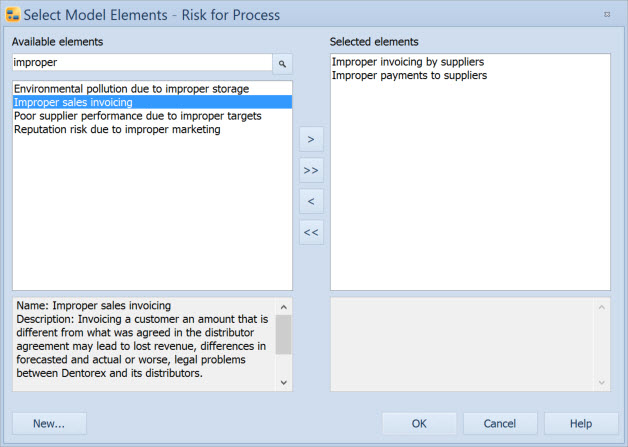 For elements which don't require a diagram presentation (i.e. ones that are visible in the Navigator view but not on the diagram) there is a New button available in the dialog. Click the New button to create a new element of the type defined for the relation. Click OK to confirm your choices and to close the dialog, or click Cancel to close the dialog without committing any changes. To open the element properties dialog of the selected element, right-click the element, and select View from the popup menu.