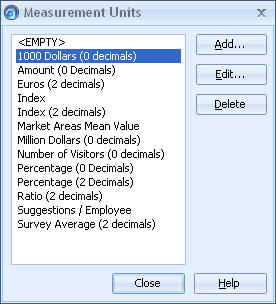 A measurement unit is an optional, descriptive property of an element's values. For example, units for financial elements could include currencies and percentages, whereas units for learning and innovation elements could be the number of courses taken or a number of certificates achieved. Therefore, measurement units are helpful when viewing and evaluating your elements.
Not only can you define your own measurement units and decide which unit each element should use, but you can also define how the units are displayed. For example, you can have a unit called Dollar1, which displays as: $ 100, 000.00 and another called Dollar2, which displays as $100 000,00 and yet another unit called Euro, which is displayed as 100 000,00
The Measurement Units window can be opened by clicking the

Measurement Units button on the Model tab of the ribbon.
See Also