In this dialog you can create a new zoom size or modify an existing one. The zoom size can be defined either as a percentage size or a pixel size. Use the radio buttons to select whether to use percentage size or a pixel size. When editing a zoom size, you can also switch from percentage size to pixel size.
When using percentage size zooming, enter a value into the Zoom to field or use the arrow buttons to scroll to a desired value. Possible values are within the range of 10%-1000%.
When using pixel size zooming, enter the desired values into the Width and Height fields. You can also define only Width or Height value. When only width or height has been defined, the zoom size is listed with an asterisk (*) denoting an undefined value. The aspect ratio is maintained in both cases. Possible values are within the range of 1-65400 pixels. However, very large diagrams (over 5000x5000 pixels on an average computer) may not generate correctly.
The Special sizing for small diagrams option allows you to define a special size for small diagrams. If the diagram is smaller than the limit values provided in the Width limit and Height limit fields, a percentage zoom value defined in the Zoom to field is used instead.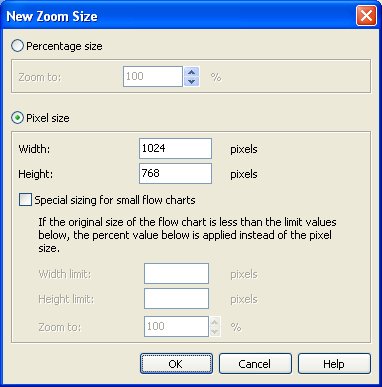 New Zoom Size Dialog