The Period Wizard allows you to create periods for a period level quickly and easily. For example, you can create periods for every week of the year by selecting week as the period level and setting the first and the last day of the year as the start and end dates.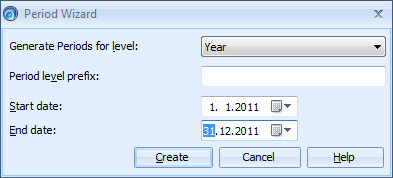 The Period Wizard
To generate periods for a selected level, follow the steps below:
1.

Select the level you want to create periods for from the

Generate Periods for level

drop-down box.
2.

If you want to have a specific prefix for the level, type it into the

Period

level prefix

field. The level prefix will appear in front of period names.
3.

Type or select the start date of the first period into the

Start date

field. To select the date from a calendar, click the

button to open the calendar view and click on the desired date.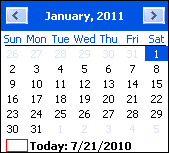 4.

Similarly as with the start date, type or select the end date of the last period into the

End date

field.
5.

Click the

Create

button to generate periods for the time span between the start date and the end date.