In QPR Modeling Client, all information from windows (diagram, navigator, analysis or report) is printable.
The contents of the active child window are printed. Navigator and analysis graphs are printed as shown on the screen and fit on one page. Analysis spreadsheet and report are printed in a standard size and as a portrait using as many pages as needed. Diagrams are printed using a landscape layout by default. For printing diagrams there are some special options available.

Exercise 77: Define print settings and print the top-level diagram descriptions.
1. Open the

Dentorex - Quality Management System

model

.
| | |
| --- | --- |
| | 2. Go to the top level of the diagram hierarchy. |
3. From the

Application menu

, select

Print > Page Setup

. The Print Settings for Diagram dialog will open.
4. It is advisable to print a diagram as landscape. Open the printer properties by clicking the

Print Setup

button, select

Landscape

from the Orientation group and click

OK

.
5. On the

General tab

of the Print Settings for Diagram dialog,

select

Fit Whole Chart to One Page.
6. Select the

Header and Footer tab

.
7. Select the

Use separate settings for the first page

checkbox.
8. We now want to remove the version number from the header.

Right-click

on the version number and select

Delete

from the pop-up menu. Click

OK

to close the dialog: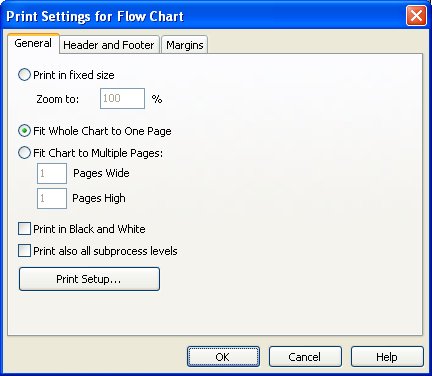 9. From the

Application menu

, select

Print > Print

and click

OK

on the Print dialog.
See the Printing topic in QPR Modeling Client - User's Guide for more information about printing.