This dialog is used for selecting the model elements for the analysis spreadsheet. This dialog can be accessed by clicking the Arrange columns button in the Analysis window.
The dialog has two listboxes, the left one containing the process steps, connectors and groups that have not been selected and the right one containing the selected ones. The unselected process steps, flows and groups are each on their own pages. You can change the page by clicking the tab of the desired page.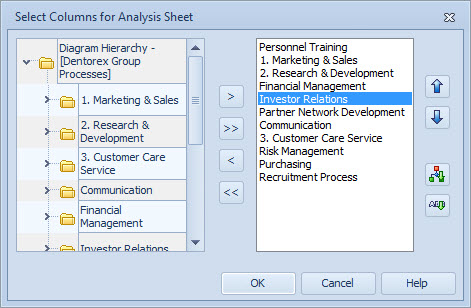 Select columns for analysis sheet dialog
You can move the model elements between the listboxes with the select buttons:

Select

Select all

Deselect

Deselect all
The Select button moves the highlighted element from the diagram hierarchy to the selected list. The Select all button moves all elements from the diagram hierarchy to the selected list. The Deselect button removes the highlighted element from the selected. The Deselect all button removes all elements in the selected list.
Next to the selected cases list are four buttons for arranging the elements:
Move up

Move down

Sort by diagram

Sort by name
The move buttons are used to move the highlighted model element up or down in the list. The Sort by diagram button sorts the elements by their position in the diagram, from left to right, top to bottom. And the Sort by name button sorts the elements alphabetically by name.