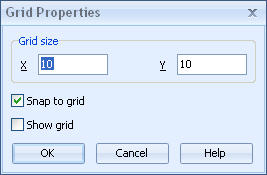 You can access the Grid Properties window from the Dashboards and the Hierarchy Views of the Scorecard Explorer as well the Symbol Layout editor. The Grid Properties window contains controllers for adjusting the size of the grid and a switch for enabling or disabling it.
To change the grid size of the Hierarchy Views or the Dashboards:
•Right-click the background of the view and select Grid Properties... from the pop-up menu.
•The Grid Properties window opens. Enter width for the grid cells into the field named as X. To change the height of the grid cells, enter the desired height into the field named as Y.
To enable the grid, tick the "Snap to grid" box, or if you do not wish to use the grid for positioning your model objects, remove the selection from the box. You can also make the grid lines visible by checking the "Show grid" option. When you are done with the settings, click OK button to save them or Cancel to exit settings without saving.
Note: The size of the grid cells is measured in pixels.