Base models can be used for version control as well. An example of this is version management of documents. The version management procedure goes as follows:
| | |
| --- | --- |
| 1. | Create a base model. Include all the common documentation in the company to the model as information items. The information items can be either linked or embedded. If you are using a third party document management system for storing the documents, it is recommended to attach the documents as linked information items. In the case you wish to use the QPR BizArchitecture Server for storing the documents, use the embedding option. However, embedded documents increase the size of the model. |
2.

Allow the model to be used as a base model (this can be done from Model tab of the ribbon

Modeling Options Server Model Options) and allow usage of information items. More details about the options available when creating a base model can be found in Base Models.
| | |
| --- | --- |
| 3. | Whenever a new child model is created, it will use the documentation included in the base model. |
| | |
| --- | --- |
| 4. | When a document needs to be updated, a new information item is created for the previous version and the new version is updated to the information item, thus making the new document immediately available in all the child models as well. Also the old version can be found when browsing the information hierarchy. All the version management is done in the base model. |
| | |
| --- | --- |
| 5. | If there are cases when the original document cannot be used (i.e. with a special diagram where the standard documentation is not suitable), the document can be extracted from the model, updated, and embedded again. |
The examples below display the information hierarchy of a model created based on a base model containing the documents. The Subcontractor Certification Terms_ISO9001 document has many versions of it, and the latest version is always under the name LatestOfficial, so it is automatically used in the child models as well. Whenever a new version of the document is created, it is linked to the Subcontractor Certification Terms_ISO9001_LatestOfficial, and the previous version is moved to a new child information item with the version present in the name. That way also the previous versions of the documents are readable.

Different versions of the Subcontractor Certification Terms document in the Navigator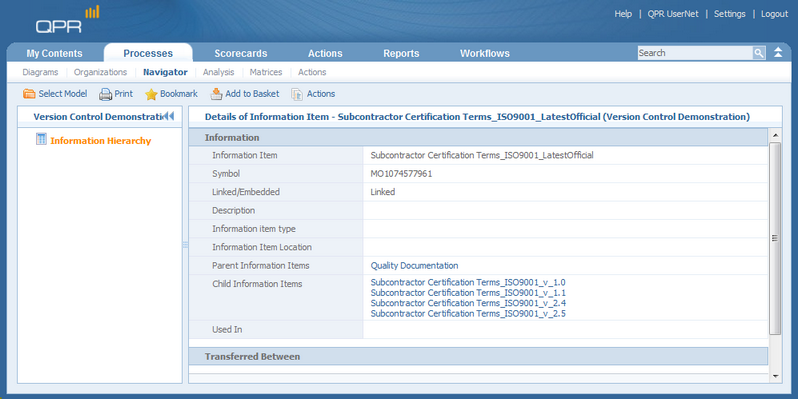 Different versions of the Subcontractor Certification Terms document in the QPR Portal. The user can view the document by clicking the link in the Information Item Location field and the previous versions of the document can be viewed by clicking the desired link in the Child Information Items field and then clicking the Information Item Location link in the view that will open.