The Custom Views dialog can be opened by clicking the

Custom views button on the View tab of the ribbon. The Diagram View, the Navigator View, and the Matrix View each have their own Custom Views Dialog dialog, and the corresponding dialog will be opened depending on which of the views is open.
In this dialog you can create and modify view settings as well as set the default view settings used for the model. To create new view settings, click the New button to open the Diagram View Settings Properties dialog, the Navigator View Settings, or the Matrix View Settings in which you can define the settings. To modify existing view settings, select the desired settings and click the Edit button. With the Copy button you can duplicate the selected settings and any other settings than the default settings can be deleted with the Delete button. Select the desired settings and click the Set as Default button to make the selected settings the default settings for the model. For a Navigator view setting, you can click the

button next to the Set as Default button to select whether you want to set the view as default for the Navigator view or the Diagram Explorer. The default view setting of the Diagram Explorer will also be used in the diagram view in QPR Portal, with the exception that the hierarchy shown in QPR Portal will contain only subprocess type elements.


Note that only administrators or model administrators can create or modify view settings.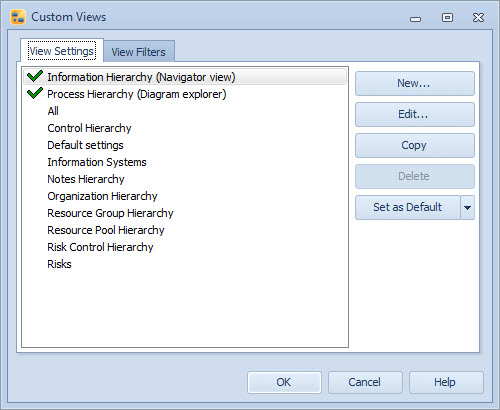 Custom Views dialog when accessed via the Navigator view
View Filters
On the View Filters tab, it is possible to create, modify, copy, and delete View Filters for the Navigator View.