QPR Modeling Client provides the possibility of printing the contents of child windows (diagram, navigator, analysis or report).
Printing Child Windows
All the child windows can be printed. Printing can be done either:

selecting Print from the Application menu or

clicking the Print button in the quick access toolbar
The contents of the active child window are printed. Navigator and analysis graphs are printed as shown on the screen and fit on one page. Analysis spreadsheet and report are printed in a standard size and as a portrait using as many pages as needed. Diagrams are printed using a landscape layout by default. For printing diagrams there are some special options available.
Diagram
When a diagram is active and Print > Page Setup item is selected from Application menu, the Print Settings for Diagram dialog is shown. You can also enter this dialog from the context menu of the diagram. For further information on the contents of this dialog, see Print Settings for Diagram Dialog.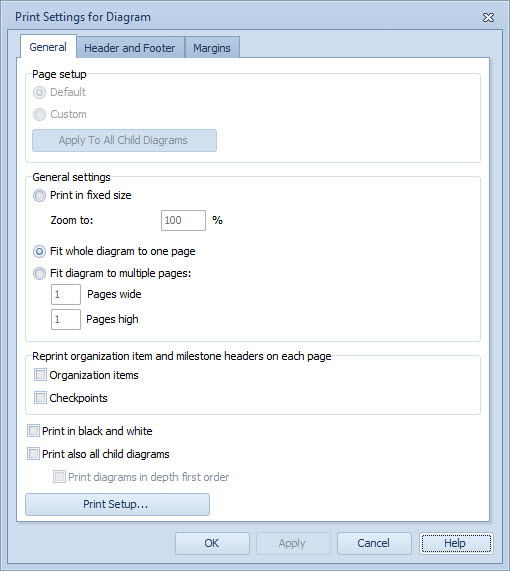 Print Settings for Diagram dialog
Before printing, you can view a print preview of the diagram.